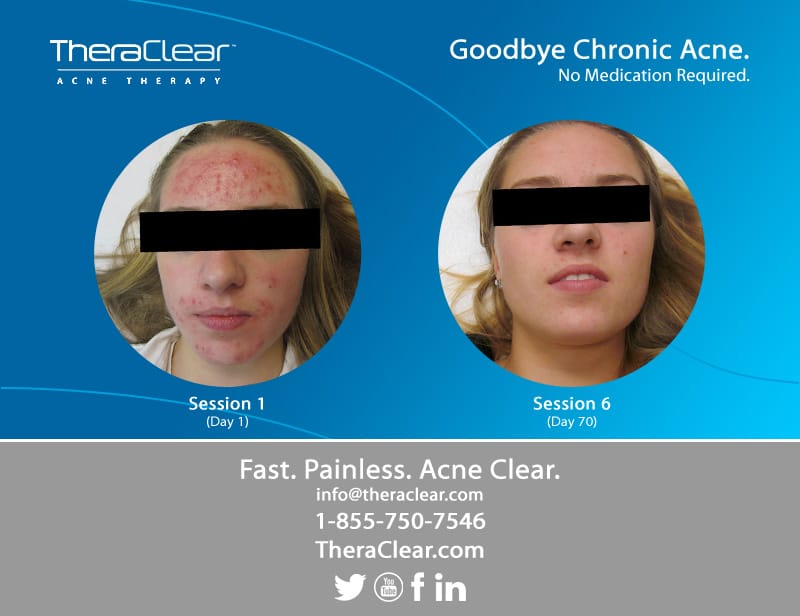 TheraClear Acne Treatment provided by Jayme Bashian from Simply Posh Aesthetic Spa.

This patient is a 16 year old athlete who spends a lot of time in the gym and running around. A year ago, she started to break out, thought to be from the stress of school and sweating at the gym. And when put on acne medications, they weren't doing the job. She was referred to Jayme Bashian of Simply Posh Aesthetic Spa by a dermatologist at Advanced Dermatology, PC.
The patient's mother was very comfortable after her daughter received a complimentary consultation with Jayme at Simply Posh. Jayme, an experienced Medical Aesthetician, has been in the Aesthetic industry over 12 years, and has always worked very closely with dermatologists to learn about acne. Our patient's mother wanted something that would leave her daughter with little to no downtime since her daughter has such a busy lifestyle with school and sports. Acne laser treatment with TheraClear was a great option.
"Going through high school with acne can be a nightmare. People can be very mean. It's upsetting to see kids getting picked on because of acne, so I do my very best to help clear their skin. Luckily, Theraclear has changed my clients lives for the better. Now, they have confidence that they didn't have when they first came in for a consultation. " says Jayme Bashian.
Along with her TheraClear treatment, we teach our patient proper ways of washing her face and daily routines to prevent the acne from coming back. After a patient's package is completed, the skin will continue to improve. This is because the patient is now taking care of their skin and all of the bad bacteria is finally cleared away.
We do offer touch-up treatments, which we recommend once in a while. You never want to let your clear skin go, so it's important to always have an aesthetician clean up your skin with TheraClear. The TheraClear Acne System is completely natural way to prevent future breakouts - no drugs, just light and vacuum acne treatment.
Session 1 - Day 1
Session 2 - Day 14
Session 3 - Day 28
Session 4 - Day 42
Session 5 - Day 56
Session 6 - Day 70
Session 7 - Day 84
Skin Care Providers: Sign up for a free Demo