Original article here.

Hello everyone, i'm back with the updates on the 3th and 4th Session of the Theraclear Acne Therapy treatment! If you have not read about my 1st and 2nd session, i'll suggest that you do it now by clicking on this LINK to understand more about Theraclear Acne Therapy treatment..

In the nutshell, TheraClear is Innomed's (distributor for American & European medical equipment for beauty & aesthetics industry) latest breakthrough Acne Therapy innovation which combines the Dual Power of Vacuum and Light Treatment to treat multiple causes of acne in one single treatment. It provide instant results in reducing acne bacteria, hyperactive sebaceous glands and blocked pores. With the recommended sessions (4-5 sessions for most), the treatment will reduce redness in surrounding lesion, drying + flattening of lesions, reduction in skin oiliness and visible reduction in pore size.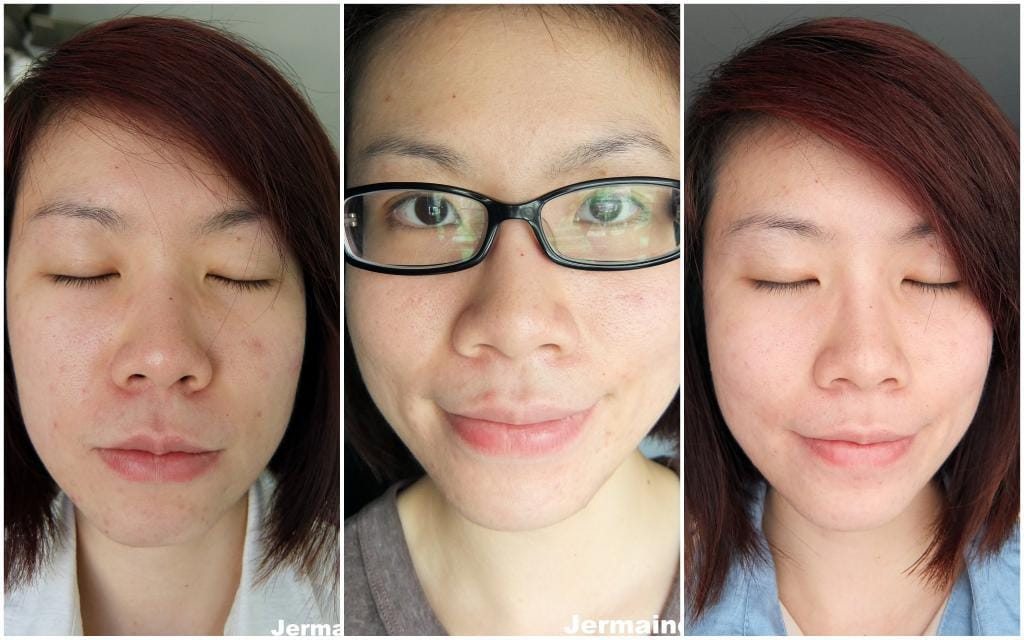 With Immediate Results (FDA cleared for most types of mild to severe acne), Theraclear Acne Therapy is safe for all, gentle and it will be good for those with persistent stubborn acne conditions. After the treatment, you will expect to see visible improvement within 24 – 48 hours post treatment.. Treatment will only take about 10 minutes and is painless!
The treatment has to be administered by a doctor and mine was done at Rafflesian Clinic & Surgery by Dr. Janice Khoo. Compared to other forms of medication and treatments, Theraclear Acne Therapy is able to improve skin condition without any side effects. It will be highly recommended for people who wants/are faster & immediate response, Antibiotic resistant patients, Non-respondents to other therapies, Effective yet painless treatment process, to avoid systemic treatments for acne such as oral antibiotics and Women with hormonal induced acne who choose to avoid the systemic treatments.
During the treatment, the Theraclear machine will deep cleanses the pore by extracting the buildup of sebaceous material (Vacuum) and use Broadband Light to activates porphryns to destroy P. acnes and reduces sebum production. The Theraclear hand piece will be first placed on skin and skin will be drawn into treatment tip. 'Cleansing' will begin and acne causing impurities will be extracted. Next, concentrated light will treat the skin and destroys acne causing bacteria. The lights will also calm inflammation and reduce acne causing oil production.
After my Taiwan Trip, i have resumed my 3rd and 4th session of Theraclear Acne Therapy (each session is about 1 week apart).. You are not supposed to apply anything on the face prior treatment. As i dropped by the clinic during lunch time, i had sunblock + concealer + eyeliner on hence i will have to remove it before the treatment commerce. One thing good about Theraclear is that i can get it done at anytime as there's no downtime! I returned to the office and no one could tell that i had undergone skin treatment…
After 3rd and 4th session of Theraclear Acne Therapy, i could SEE for myself on the decrease in the amount of imperfections! As cleansing would take place after Theraclear treatment using the sonic tool, the amount of JUNK ( oil / excessive sebum / Dead-skin) removed has reduced significantly! Vast improvement when compared to what i have experienced after the 1st & 2nd treatment!
After 4 sessions of the Theraclear Acne Therapy, the improvements has to be calmer skin, less redness, clearer and more even skin texture. After getting two more treatments done, the amount of oil secretion has reduced by at least 50% (at the end of the 4th session).. My skin doesn't feels that greasy and heavy as before. Previously i was on Accutane (with many side effects) and the purpose of the medicine is to shrink the oil grands. But once i stopped it, the oil production level went back to normal and the breakouts came back. I'm glad to have found a safe alternative to reduce my oil secretion level!
As you can see from all the comparison photos below. the amount of clogged pores and bumps on my face have reduced (especially on my jawline, cheeks, the sides of my face and underneath the jawline). Cupped with appropriate skincare routine, the therapy helps to control further breakouts and it helps to speed up on the recovery process of my acne / pimples. I'm still having breakouts (especially 1 week before my period) but condition is more controlled and it clears up faster. I guess the reduction in oil-secretion contributes to lesser clogged pores and breakouts! But because there's reduction in oil secretion, my combination skin has become drier and to combat dryness, i have to use a more hydrating moisturizer.
Overall, the Theraclear Acne Therapy is a straightforward treatment which brings no pain, no harshness and zero downtime. Safe on all skin types, i will highly recommend it if you need an effective treatment when you have stubborn acne and everything else don't seems to work for you..
Read full article here.